We all like to have a timely response from our customer service encounters. Typically there are a some items that are higher priority than others and others that are lower that can be followed up with a slower timeframe.
Property Owners
Property owners are priority #1 to us. If you ever receive any communication with a property owner that you may not know the answer to its more than okay to say:
"let me check with the team and get back to you on this."
If a property owner reaches a level where they are unreasonable you can let them know that Preston or Kendall will get back with them. Most of our owners are really cool but just like anyone sometimes people can lose their cool over small and simple things. Property owners are welcome to call Preston and anytime on his personal phone number (or even more preferably whoever is on the phones can slack Preston to check if he could call the appropriate property back. At a date in the future we'd like to have all messages and owner communication through talkroute, simply due to being able to monitor and Preston not having to be on call on call all the time.
Maintenance requests:
If you ever need to send a maintenance request to a property owner (only for properties in which we perform Booking and Marketing services). As well as please note that in some case we will perform Booking and Marketing services but with an on-site caretaker (We'll use the abbreviation BM for Booking and Marketing & BMC for Booking and Marketing with Caretaker). Well specify this in the same place under Employee fields. BMC: In this case we'll tactfully need to let the guest know that all questions during their stay are to be directed to the caretaker (if they keep asking us questions).
To check to see if the property is a Booking and Marketing property go into ORZ > property > custom fields > employee information:
Example of a property that is fully managed by us (full service is where book, market, clean, and maintain the property and we'll use the abbreviation FS for full service management)

Example of a property that falls under our Booking and Marketing Services:

If the property is a BM (Booking & Marketing) then there are typically two ways in which we communicate with property owners.
Email: typically we'll send the owner an email if the request is non-urgent and or late at night.
Text: Most of our property owners text just fine and if there is a more urgent item that is dealing with temperature, water etc. and say its 9 pm at night. We can let the owner know. Also in some certain circumstances if its okay with the property owner to exchange the contact information of the guest and property owner (not in all circumstances). Property owners for BM typically will get an email, right after the guest books with the booking details and the guest's phone number. Some owners remember to reference to this when the guest has issues.
A text to the property owner saying something like:
- "Hi [Name], we hope you are enjoying your [e.g evening]. The currents guests in the [property name] are having a few issues and this is what they mentioned, "[copy and paste the guest message]"
3.   Phone call: Typically we try and save phone calls to property owners for day-time hours.
Also please note it important to for BM to keep the guest updated. After you have messaged the owner and they have confirmed receipt of your message and mentioning that they have someone on it to take care of it. We can message the guest back with something like:
"The property owner has been notified and mentioned that he will be able to swing by or send someone by to come and fix the issue."
How to find the property owners contact information:
First check under custom fields and employee information to see if there are any special instructions
Go to the PM tab: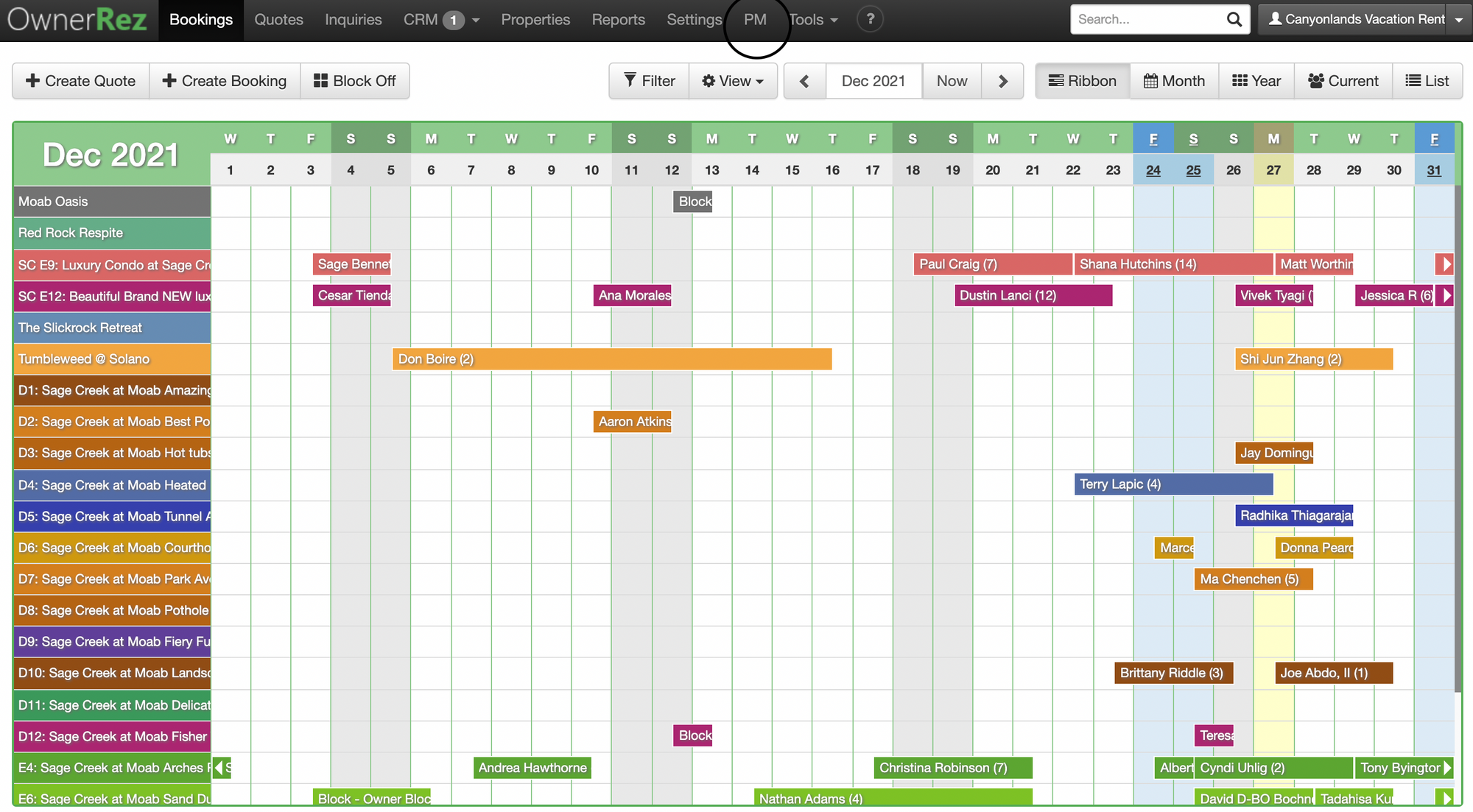 3. Then click on "Configuration Dashboard" and you'll notice that you owner listed next to the property in which they own: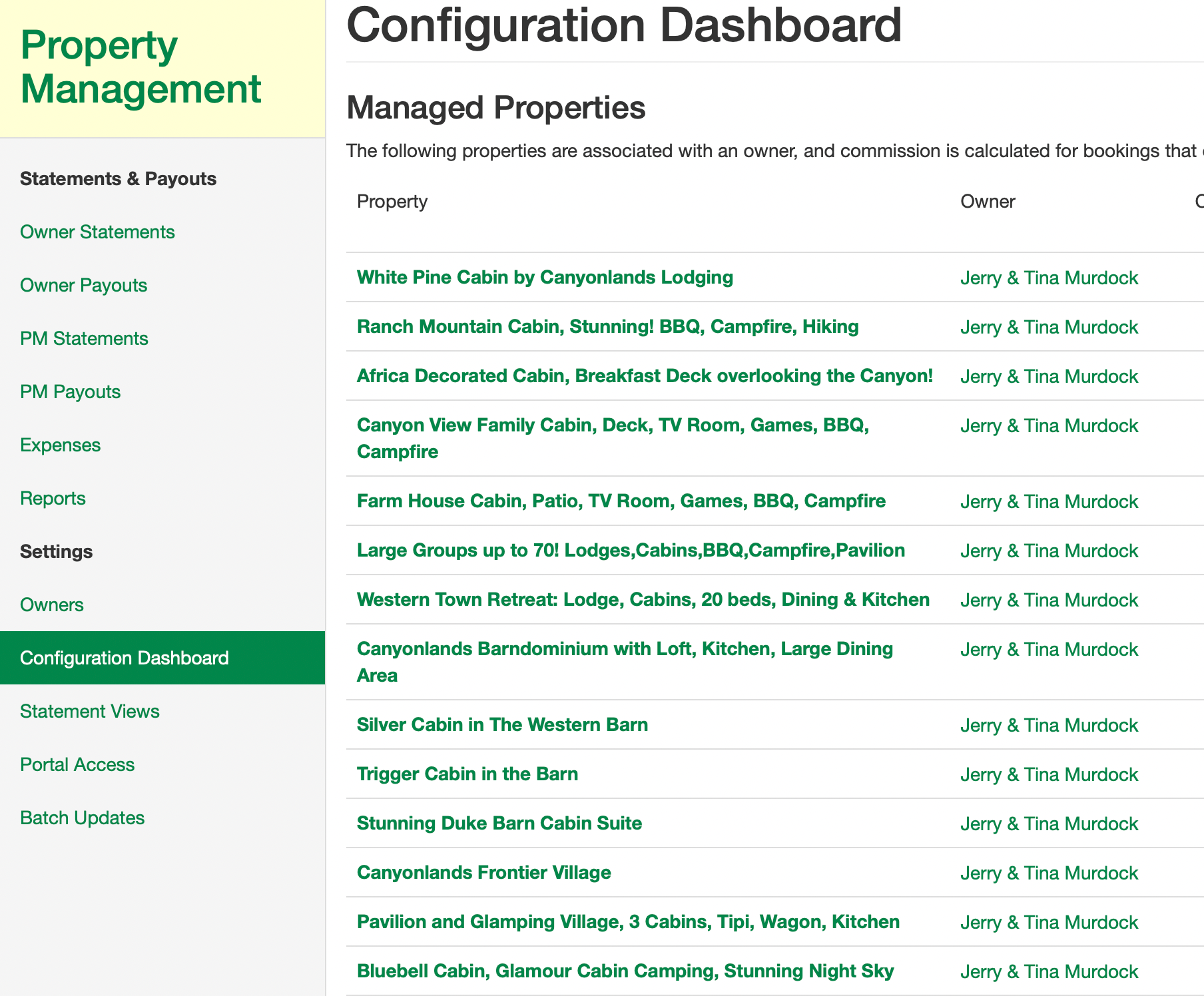 4. Click on the owner and to find their contact information (note if there are two owners  make sure to read the notes section to see which owner typically is the maintenance contact):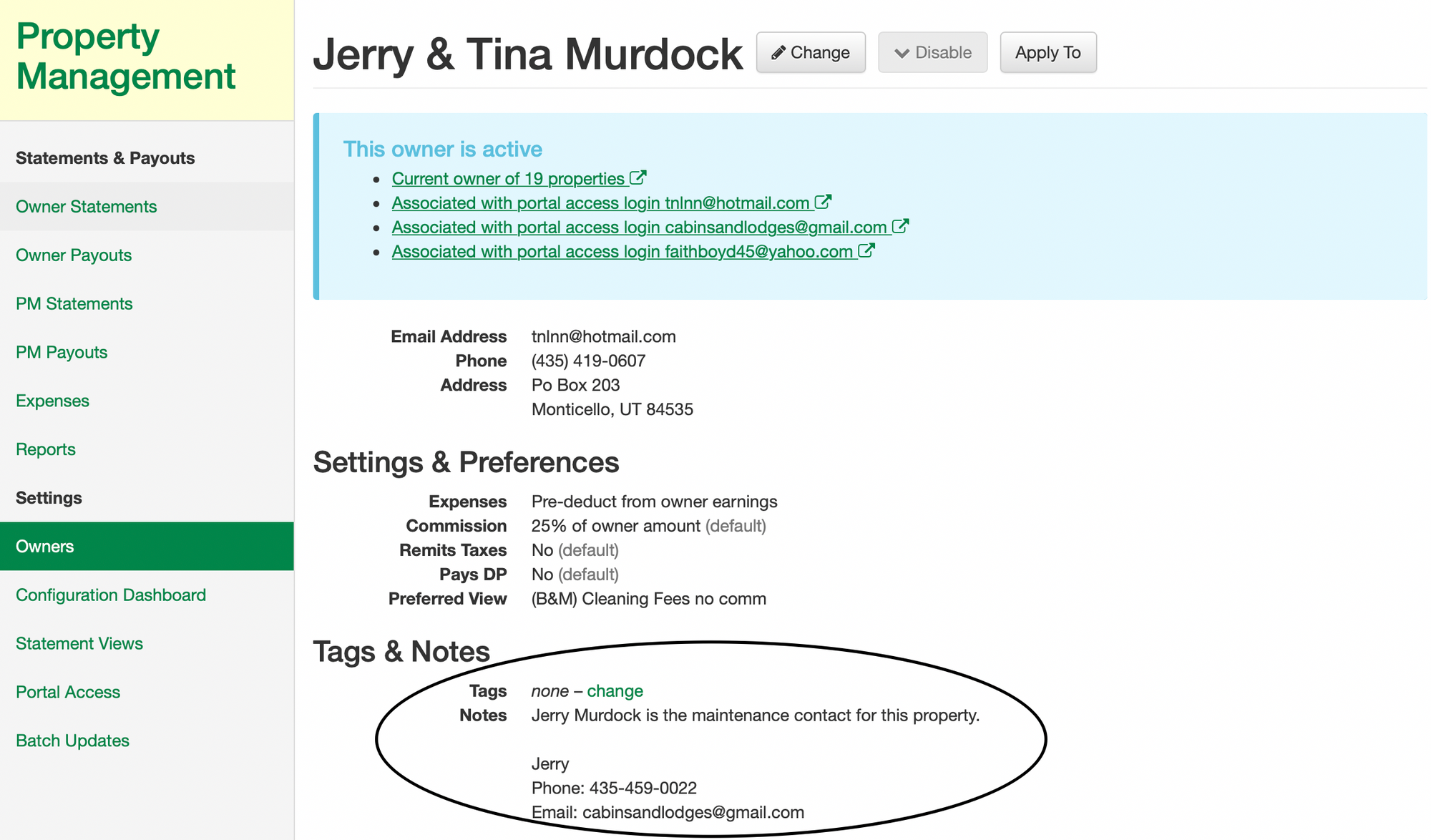 Email
We like to respond to emails fairly promptly. Most of these are direct and to the point in regards to adjust their reservation, etc. If you ever receive an email from a property owner in which you don't know the response, just reach out.
Airbnb
With airbnb it's often easiest to use the application because they have a good user interface (you can also use ORZ if you'd like). With Airbnb, it's important to note that there are a few auto messages that go out that can bury the old questions etc.
Auto-messages on the airbnb platform go at the following intervals:
- 9 am - check-in details are sent out the day before arrival
- Thanks for booking: sent to minutes are the guest books
- 6 pm - a message is sent on the day or arrival mentioning something along the lines of - we hope you have settled in. Please let us know if there are any issues etc.
With these auto-messages in mind I typically like to catch up on airbnb messages first thing in the morning (also when an auto-message goes out it will typically then mark the message as unread). Typically there are non-urgent type messages that are also left over from the previous evening. These are important to follow up with as well. Lastly I also find it important to go filter the messages by unread: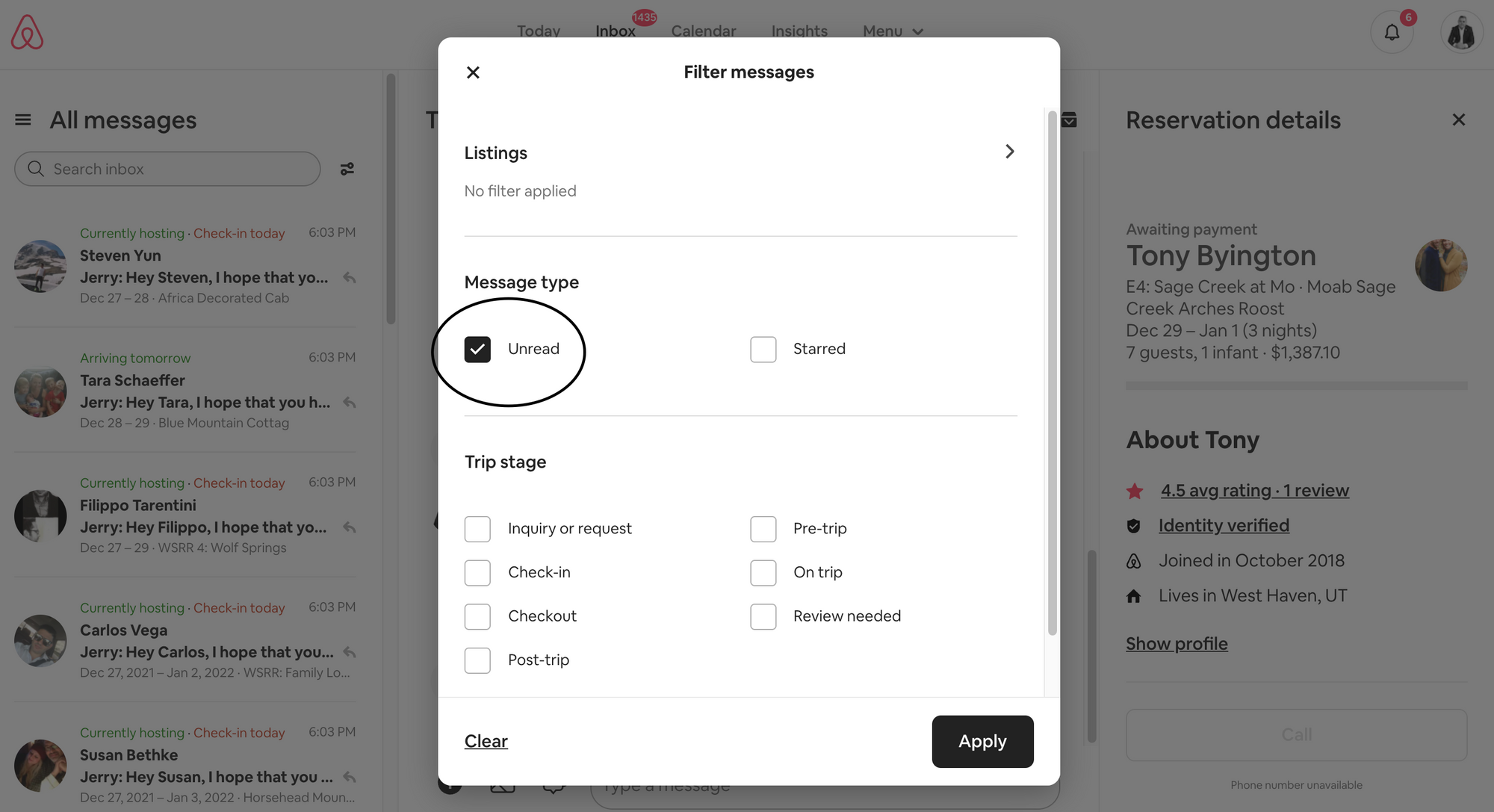 After filtering, I like to go through all of the messages that are unread, even the ones with the auto-messaging to make sure we didn't miss any previous questions or inquiries. After I'm done I leave these messages as unread (also when I read a message that needs to be follow up with I mark it unread, so it can stay on our radar). Lastly if a guest has an issue that has a problem I mark them with a star so we can keep an eye on them.

Angry Guests
Not too common but every so often a guest will get mad, please communicate calmly with these guests Act like you were a legal secretary and don't say anything that can be used against you or the team. If you lose it with the guest, even as much as they may deserve it, it only comes back to bite us. Whatever you do not engage reactively with their anger. Some people completely lose all of their common sense when they are angry. Specifically, when a guest is angry for dumb reason e.g. the toilet paper scratches their butt or something stupid (trust me, we've seen it all!) and depending on the exact circumstance (in many circumstances that don't need an immediate response, it can be important to also give the guest a little time in between responses to cool off). We don't want to give an angry guest too much time or ignore them because they will then try and troll us and leave a nasty review somewhere else. Even though we can often times respond to these guest's reviews, they still hurt business. The best responses to these guests are direct, factual, and to the point. Handle them with care and remember that all people are often cool in the right circumstances, maybe this guest has been traveling with a screaming baby for the last 11 hrs. Be prudent!