Security Deposits are different per platform in which the guest books. For all direct bookings, VRBO, and other platforms (except airbnb) they are pretty simple and the software takes care of them at the initial booking checkout
Airbnb
For Airbnb the guests, they will get a rental agreement to sign (also disclosed at booking) Picture below: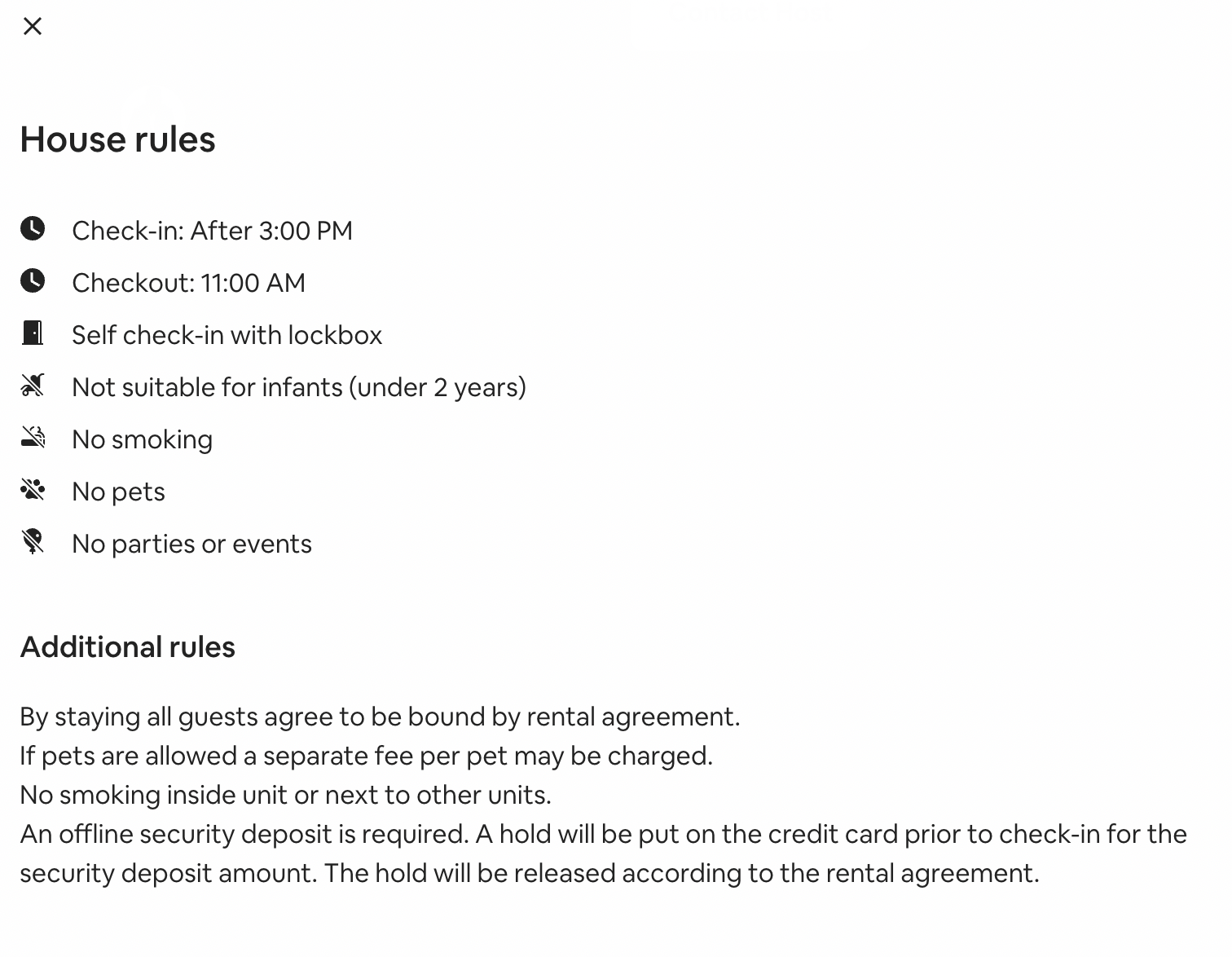 The guest will fill out the rental agreement and sign. They will then get an email from us before booking, with a link to input their credit card. This will then integrate with their booking in our software.
Before we could take an offline security deposit from Airbnb guests, we predominately had the most damage from Airbnb guests that was unrecoverable. *Please note that since this is a manual step with guests that there still is the chance for the security deposit to be missed as we don't monitor that every guests places their off-line deposit.
If the guest didn't fill out their rental agreement and then they won't get the link for the security deposit. If we don't get their security deposit and we have damages we'll cover that in the damages documentation.
2. Direct Booking
We train everyone to send guests quote to input their details to finalize their booking or to help the guest book the property online. Specifically, if you create a manual booking you have to set up the security deposit as a manual transaction etc. So to avoid that we use the quote and website booking method and try to avoid the manual booking method.
3. All Other Channels
For right now, on the other channels the credit card information are collected and the booking is auto-synced into our system with the appropriate security deposits.
Holds
Also please note that the security deposit is a hold on the credit card (not a charge). Many guests can mistake this because they see a pending charge on their credit card statement. These holds are automatically released 7-10 days after the guests stay (assuming no damage or excessive cleaning to the property). If a guest is really worried about their security deposit you can go into their booking > transactions > click on their security deposit hold > then release > send guest email > save. Every so often the credit card within the billing software has to be reauthorized. This sometimes looks like a second charge to the guest (really it is just releasing the first hold and creating a second – with the timing sometimes it looks like two holds to the guests credit card). They have no real need to worry but sometimes the need just a slight explanation.
Here is Ownerrez's documentation on security Deposits via Airbnb
First problem – I'm using real OwnerRez security deposit holds with Airbnb, and guests are complaining about offline payments. This is a new capability that most Airbnb guests, and even many Tier 1 Airbnb support staff, are not familiar with. If you have configured your offline security deposits in accordance with our instructions, you are in full compliance with Airbnb requirements, and you can enforce the requirement on your guests as it is properly stated in your configuration and rules and displayed to them before they book. If you encounter an Airbnb support member who disagrees, sides with the guest, and tells you this is not allowed, here's what you can do:
Refer them to this Airbnb article.  Note that, as described in the article, you are a "software-connected host" (that's OwnerRez), which specifically allows you to directly collect a "security deposit / refundable deposit" as long as it is "detailed in the listing description and included in the price breakdown before guests book" - which it is, if you've followed our instructions.
Tell them to check their internal system for your account and take note of the "Collects offline fees" flag on your account.  If you've correctly followed our instructions, that will be set (you can't see it, but Airbnb support can).  As its name implies, that gives you authorization to, well, collect offline fees - like your security deposit.  :-)  If they say that flag is not set on your account, let us know - we have contacts at Airbnb that can get that fixed.
If this doesn't persuade the Airbnb support member that you are in the right, please forward their entire message to the OwnerRez Helpdesk. This will include their name and other identifying information.  We'll pass it on to our Airbnb contacts, who can reach out to them and educate them on the new program to clear up the confusion.